SEPURAN
Upgrading biogas to pure RNG from landfill
Evonik is responding to the challenges of today's security of energy supply: Using the group's innovative SEPURAN® Green membrane technology, biogas released during, for instance, anaerobic digestion of municipal solid waste in landfills can be upgraded simply and efficiently to pure renewable natural gas (RNG) and fed directly into the local natural gas grid or used as alternative fuel for minucipal vehicles like city buses or garbage trucks.
Renewable natural gas from municipal solid waste landfills
Renewables play a key role in clean energy transitions and the deployment of renewable power is one of the main enablers of keeping the rise in average global temperatures below 1.5°C. According to the International Energy Agency, the share of renewables in global electricity generation reached 28.7% in 2021. Still, renewable electricity needs to expand faster to reach the milestones in the Net Zero Emissions by 2050 Scenario. 
Beside wind, water and sun, biogas is becoming increasingly important in today's renewable energy mix - quite rightly, because it is a highly efficient energy source and an important component of decentralized supply structures.
Landfills for municipal solid waste are a source of biogas. Biogas is produced naturally by anaerobic bacteria in municipal solid waste landfills and is called landfill gas. Landfill gas with a high methane content can be dangerous to people and the environment because methane is flammable. Methane is also a strong greenhouse gas. Biogas contains small amounts of hydrogen sulfide, a noxious and potentially toxic compound when in high concentrations.
In the United States, regulations under the Clean Air Act require municipal solid waste landfills of a certain size to install and operate a landfill gas collection and control system. Some landfills reduce landfill gas emissions by capturing and burning—or flaring—the landfill gas. Burning the methane in landfill gas produces CO2, but CO2 is not as strong a greenhouse gas as methane. Many landfills collect and treat landfill gas to remove CO2, water vapor, and hydrogen sulfide and use it to generate electricity or sell as it as a substitute for natural gas.
The U.S. Energy Information Administration (EIA) estimates that in 2021 about 232 billion cubic feet (Bcf) of landfill gas was collected at 311 U.S. landfills and burned to generate about 9.4 billion kilowatthours (kWh) of electricity. This was equal to about 0.2% of total U.S. utility-scale electricity generation in 2021.
SEPURAN® Green membranes for biogas upgrading during wastewater treatment
As previously mentioned, biogas is produced by the fermentation of biomass - an organic substance, for example, from wastewater, liquid manure and sewage sludge, or from renewable raw materials. However, in addition to the energy carrier renewabe natural gas, raw biogas also contains carbon dioxide as well as other trace gases.
Evonik's gas separation membrane SEPURAN® Green makes it possible to purify the biogas that accumulates during anaerobic digestion of municipal solid waste inf landfills into high-purity RNG and return it to the circular economy. The CO2-neutral gas can be fed directly into the municipal natural gas grid or used as a green fuel C-RNG (Compressed Renewable Natural Gas) to power municipal vehicles like garbage trucks.
Biogas upgrading using membranes
Evonik's SEPURAN® Green membrane has been especially developed for efficient upgrading of biogas into high purity biomethane. The market entry of Evonik into the Biogas upgrading industry in 2011 revolutionized the market and set new technology standards. The introduction of a highly selective SEPURAN® Green membrane in combination with a patent protected 3-membrane-stage process allowed for high methane yields and high product purities with an optimized energy consumption.
Various technologies are available for separating CO2 from the raw biogas and upgrading it to biomethane. In addition to wellknown technologies such as pressurized water scrubbing, amine scrubbing or pressure swing absorption, membrane technology has become increasingly established in recent years. Thanks to highly efficient and highly selective membranes, it is possible to separate CO2 almost completely from methane in a compact 3-stage process.
Polyimide-based membranes are the most widely used membrane treatment systems. The advantage of membrane upgrading plants over conventional technologies lies, among other things, in the simplicity of the process and the low maintenance requirements. Of course, the spread of biogas upgrading plants is also influenced by local conditions and regulations as well as national incentives.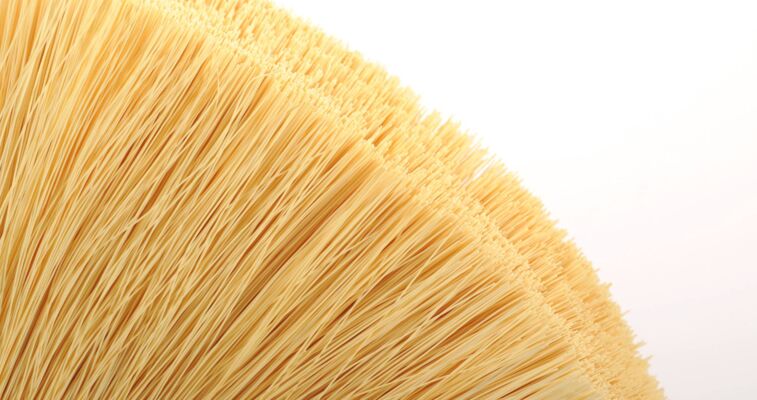 BIOGAS FROM SPAGHETTI?
Biogas is an eco-friendly energy source. It can be used to generate heat or as a fuel. But an extensive upgrading process is required before biogas is fed into the natural gas grid. New and highly selective polymer membranes from Evonik convert raw biogas simply and efficiently into highly pure biomethane.